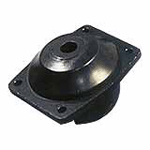 These are specifically designed to give high reresilience as low loads. Although the mount design allows high deflections, they are compact in weight and easy to install. It's unique construction and the production methods make these types a high perfomance anti vibration mounting having a number of advantages.

tight tolerances on dynamic stiffness rate for accurate vibration calculatios.



Wide load rating options, 3,5,-2005kg.



corrotion protected to cope with arduous environment on land or marine applications.