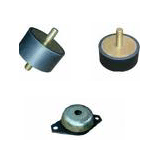 These type of mountings consists of cylindrical shaped rubber integrally bonded between ferrous or non-ferrous
washers or metal parts with bolts or nuts.
The combination of stable low installation height , high compression strength & low shear stiffness makes the product a versatile high performance antivibration mounting with easy installation.
These are designed & constructed for different diameters & height depending on the requirement of load deflection
Properties.

Application & Usage:
These mounts are used for absorbing the vibrations of any applications.
These are used in Air conditioners, compressors, generator sets, electric motors, automotive radiators & vibratory
Feeders.